Uncovering the opportunities of e-textiles and smart fabrics
Electronically integrated and responsive fabrics are changing the face of fashion, healthcare, and occupational safety
Sustainably designed clothing, garments that provide real-time medical diagnosis and vests that help keep workers safe are a few examples
Challenges such as breathability and ease of movement have been solved
Washability for e-textiles and smart fabric that maintains garment integrity is a key concern, as is affordability
Nevertheless, future forecasts for market growth are positive
Differentiate yourself in the market with tailor-made wearable technology. Our wearable specialists are ready to design wearables that meet your business needs. Contact us today.

Ben Mazur 
Managing Director
I hope you enjoy reading this post.
If you would like us to develop your next product for you, click here
E-textiles and smart fabric are dynamic and relatively new fields of wearable technology that embed fabric and textiles with electronics. If this has you envisioning something akin to chainmail (clunky and uncomfortable to wear), prepare to have your mind blown.
We tend to consider technology in relation to what it can do to make our lives easier. When it comes to e-textiles and smart fabrics, there's no simple answer. Almost every manufacturing industry has a fabric component somewhere in its product line. As a result, we're starting to see electronically integrated and responsive fabric popping up in everything from wearable technologies such as smart socks and Sound Shirts; to solar-powered tents and heated car seats.
Is there a difference between e-textiles and smart fibres?
Technically, yes. E-textiles integrate electronics into or onto fabrics and enable the transfer of data (e.g. temperature, light, pressure, atmospheric conditions). They are primarily designed with wearable computing in mind and can either have electronic components woven together with fabric components, laminated or sewn onto the fabric surface.
Smart fabric, on the other hand, is defined as a textile that responds to outside stimuli (e.g. heat, chemicals) but doesn't necessarily have an electronic component [1]. For example, a t-shirt made with thermochromic fabric that changes colour according to temperature or can glow in the dark.
Smart fabrics don't have the same 'intelligence' as e-textiles (which can collect data, send alerts, and give tips) as their functionality is more passive. For this post, e-textiles and smart fibres will refer to products that satisfy both categories.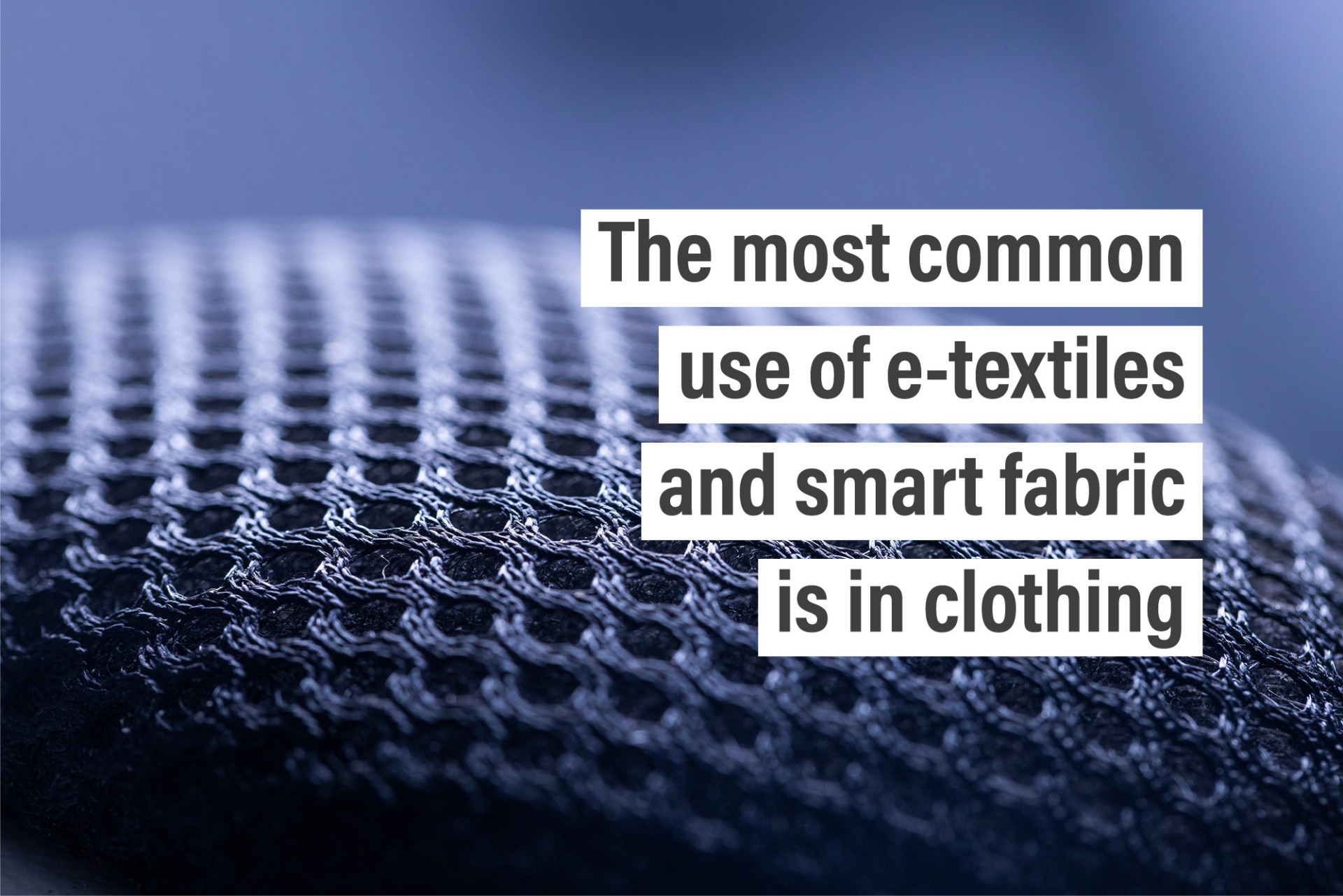 Top 3 uses for wearable e-textiles
Unsurprisingly, the most common use of e-textiles and smart fabric is in clothing. The STARTS Program (Science + Technology + Arts), an initiative of the European Commission, launched a collaborative research project called Re-FREAM, where artists, designers, and scientists teamed up to re-think the manufacturing process of the fashion industry. The goal was to develop new techniques and aesthetics that are inclusive and sustainable – the results were nothing short of fascinating. Our favourite products include:
Footwear Time-Based Design: A flat-printed biodegradable shoe with parts that can be replaced or repaired and integrated sensors that adapt to the consumer's needs over time. Users can communicate with the shoe via an app to customise humidity, pressure and temperature or allow it to make necessary adjustments autonomously. Shoes can be printed overnight and on-demand, thereby avoiding waste production and reducing carbon footprints
Second Skins: A garment system designed with responsive and reactive textile elements that allow wearers to create a personal light symphony and literally stand out in a crowd. Garments are made using printed circuit boards and LEDs using a modular bonding technique that allows for easy repair or complete disassembly at the end of life
Touch (and staying in Touch) was inspired in response to social distancing. Sweaters embroidered with conductive yarns and e-textile bonding technology allow wearers to communicate with each other through sound via touch or Bluetooth
Whether e-textiles will become mainstream in today's world of fast fashion is debatable. However, the purpose they serve in the medical industry is undeniable. Garments made with biosensors can:
Measure a muscle's electrical activity as it's worn [2]. They turn ordinary textiles made from polyester or cotton into a device that can measure electrical impulses from muscle movement and help with injuries and rehabilitation
The DynaFeed smart garment weaves the digital world into textiles. Athletes use it to measure vital biometric data, track heart rate variability, pinpoint areas of concern, and monitor specific data such as fat burn and cardio zone
Biosensors for rapid medical diagnosis, such as Monrod Bio, can solve several traditional health testing procedures (e.g. invasive testing or samples that need to be sent to laboratories and take time to deliver results) and offer simple, on-the-spot diagnostics
Another area where e-textiles and smart fabric are showing their worth is in the field of occupational safety. Elitac Wearables specialise in integrating electronics and textiles by focusing on haptic activators (vibration motors) to improve safety in the workplace:
The SmartShoulder is a waterproof, smart safety vest for service engineers. It features a panic button and integrated LED lights that activate automatically in low-light environments – leaving the wearer with both hands-free to focus on the job
The Mission Navigation Belt allows soldiers to feel waypoint navigation cues through haptic feedback and GPS
How seamlessly will smart fabrics weave their way into daily life?
Many of the e-textiles on the market have solved the challenges of breathability and ease of movement. However, washability for wearables – especially when there's an electronic component – remains a crucial concern. Another concern is price accessibility. A pair of smart socks that improves runners' performance can cost as much as €269, which for most consumers, isn't a practical option for regular use—especially considering that wrist wearables such as the Fitbit (that provide roughly the same information and have more functionality) cost considerably less.
That said, the applications across numerous industries give us all the more reason to embrace them [3]. New fibre composites are making their way into the electric vehicle market, textile electrodes for new battery prototypes, composite materials and even textile concrete.
If the future forecast for wearable technology, in general, is anything to go by, e-textiles and smart fabrics are also likely to see positive market growth. What are your thoughts? Have you come across an application you found particularly interesting?
We love to talk about new ideas
Do you have an idea? Book a consultation with an expert - it's free, it's confidential and there are no obligations.
+44(0)117 329 3420
[email protected]
Ignitec Technology Centre
1 The Powerhouse
Great Park Road
Bradley Stoke
Bristol
BS32 4RU
Put your Innovation on Autopilot®
Find out how we can supercharge your hardware, software and product development and get you to market with the right product, faster.